Planning Approval for The Roseburn to Union Canal Path Link
Senior Landscape Architect
March 16 2021
The Roseburn to Union Canal Path Link, has planning approval from City of Edinburgh Council.
HarrisonStevens are very excited that after 3 years of design and consultation this active travel route and greenspace improvement project will be starting on site. The Sustrans supported scheme was brought together with WSP, and highlights so many of the City of Edinburgh Council aims – getting more people onto bikes, accessing green space for exercise; providing opportunities to grow food and increase biodiversity.
The plans also integrate with the Council's proposals for the 'QuietRoutes' network with an aim to provide safer, more direct and convenient access to key destinations by bike and on foot. Extending from Dalry Park to Sauchiebank the route passes through play spaces and woodlands with a new bridge over the Dalry Road, passing through the Dalry Community Park.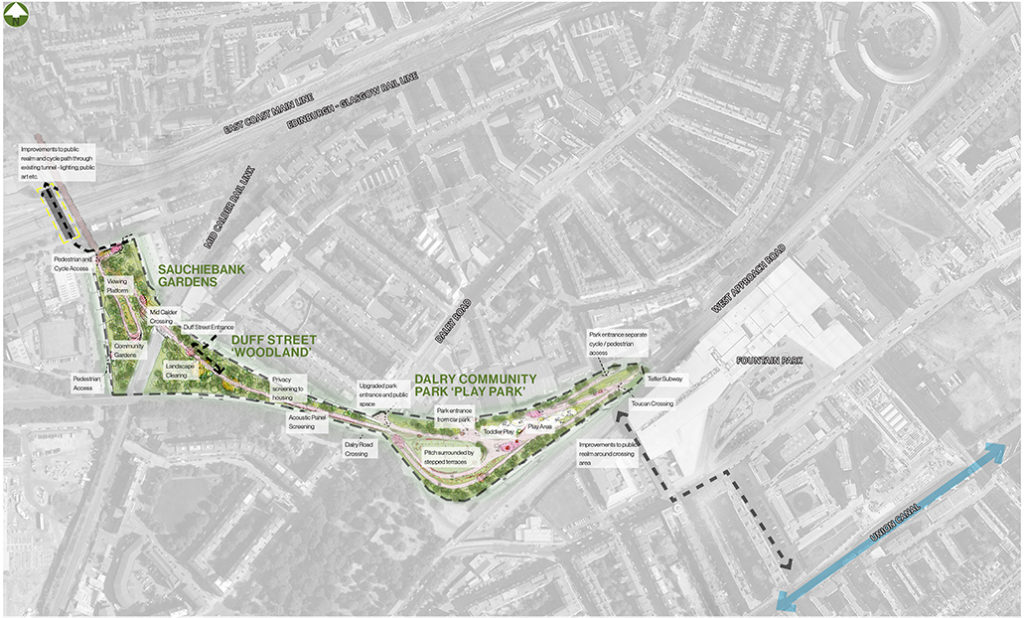 HarrisonStevens has recently drafted a Landscape and Habitat Management Plan (LHMP). The LHMP documented how the new landscape proposals, existing landscape features, and ecological aspirations of the site can work together. It sets out the aims of protecting and enhancing existing habitats whilst integrating the new programme of activities. This document will guide the development of the site over the coming years and evolve with input from various stakeholders and community groups.
The planting typologies in this setting need to work hard to achieve so much in such a small site with so many different purposes from food production to sports and fitness, to the shared cycle path allowing access for all. The landscape is layered and diverse and requires further design with the help of the local community so it can respond to the management regime, grow over time, change with the climate, and needs of the people and animals that use it.
https://harrisonstevens.co.uk/our-work/the-roseburn-to-union-canal-link
Related articles