Yuanming New Garden Urban Planning Concept Design
Landscape Architect
February 3 2021
A good concept design is one that reflects the site's unique characteristics and reflects our ethos and values as a practice.
HarrisonStevens has been commissioned to carry out the concept design of a mixed-use development around a historic park in southern China. The park first opened to the public in 1997 and was designed to replicate the Old Summer Palace with eighteen full scale replicas of the historical gardens and buildings around the lake, Fuhai, which have their own spatial cultural and educational value. The city where the site is located (Zhuhai) once supplied 70% of world's printer RGB ribbons and is now a national ecological garden city and forest city.
We have incorporated the history of the city into the concept and proposed an 'RGB Ribbon' as a circular route to wrap around the park. Where the ribbon meets the existing route, 'Pearls' unite these two different stories, breaking down the wall between old and new. This approach is an architectural and 'civic' response to the City, with coloured structures lining the route, modern coloured surfacing, and bold planting in different colour hues. There are therefore two routes around the Lake, the existing historic which is enhanced with modern interventions and older clutter removed, and the new landscape related route which reinforces the identity of the new developments and links them to the cultural heart of the park.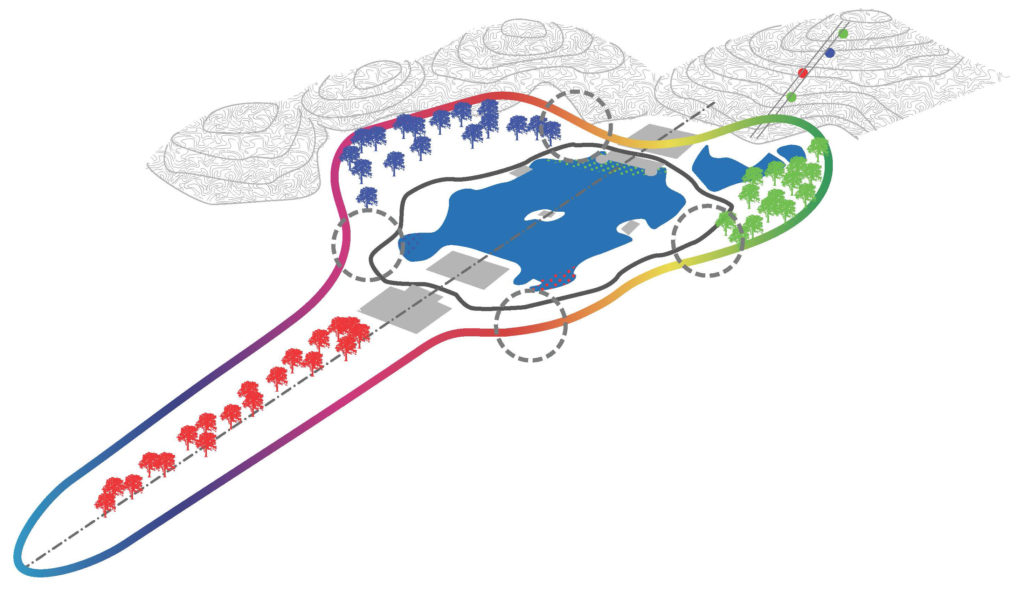 The masterplan identifies two landscape types. The southern part of the site has been identified as a more functional open space for ease of visitor flow: whereas the northern part of site includes more intimate landscape spaces with planted surroundings for a hotel, spa and resort feel.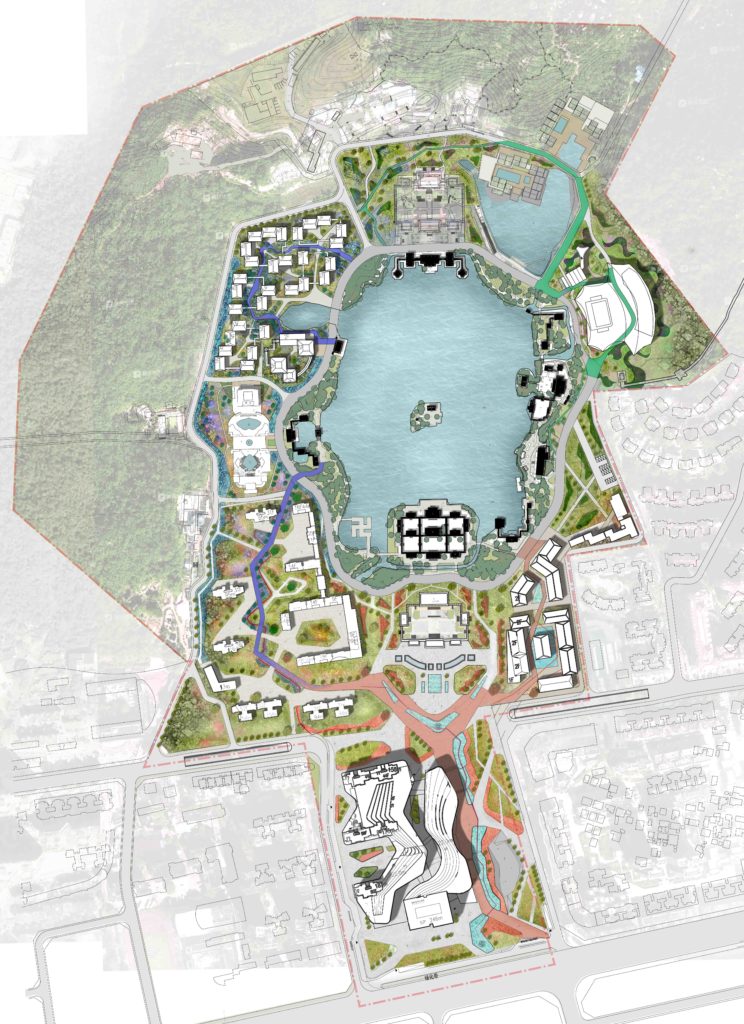 For this project we had to carefully consider the individual cultures and differences throughout the design process and as suggested by a Chinese idiom, seek common ground while reserving our differences (求同存异). There was an initial challenge in navigating a different contractual framework, particularly with the language barrier. Secondly, the fast-paced working environment was reflected in the rapid speed in which we moved through the programme – a challenge which we were successfully able to rise to. Thirdly, in the production of our final report, we adapted our work to the local structure and considered some areas we would not otherwise have thought about.
We embraced the challenges of working and designing in a completely new context with different urban fabrics, culture, and history. A good concept design is one that reflects the site's unique characteristics and reflects our ethos and values as a practice. We will continue to approach all our projects with the same mindset, curious, context and legacy driven, no matter where the site may be.
Related articles