HarrisonStevens Re-Imagined 2020 Annual Study Tour – Edinburgh
Landscape Architect
October 9 2020
A recap of our re-imagined annual study tour in light of the current pandemic and the hilarious socially-distanced debate that followed!
The team at HarrisonStevens had the opportunity to take part in our annual study tour, this year re-imagined complying with social distancing. This meant that we had the opportunity to visit, explore and discuss in pairs a total of seven great realised projects within Edinburgh.
We visited two projects per pair with open minds, the sun on our faces and cameras in hand. The weather was kind to us, and the afternoon was a fantastic opportunity to experience projects by active travel – walking and cycling around them. The weather also meant we could see the impact landscape spaces have on the public – with a large number of people relaxing, socialising, and sunbathing in the green spaces of Edinburgh. From the sites I visited it was great to see so many bees within the planting, and how much of an impact and movement the areas of successful planting had.
As a graduate, this trip was particularly useful for me as I was able to learn from Debbie, our Associate Director, who had been involved in the design team of one of the projects we visited. The project was completed in 2004 and has some intricate details and innovatively designed solutions that we were able to talk through. It was also great to see how the landscape was being used, in addition to how it had matured and changed over time.
The annual study tours are a fantastic opportunity to be able to see innovative landscape architecture precedents in person. Allowing us to understand how details work in practice, how different spaces are used and identify where details may not work so well. We came to the site with an open mind and after exploring it we used the place standard to identify how successful the projects were, holistically. Hopefully, next year we will once again be able to experience inspiring landscape projects as a whole team again! This years' experience has taught us a number of new methods to analyse and enjoy spaces which we will use on future study trips.
Jenny Jones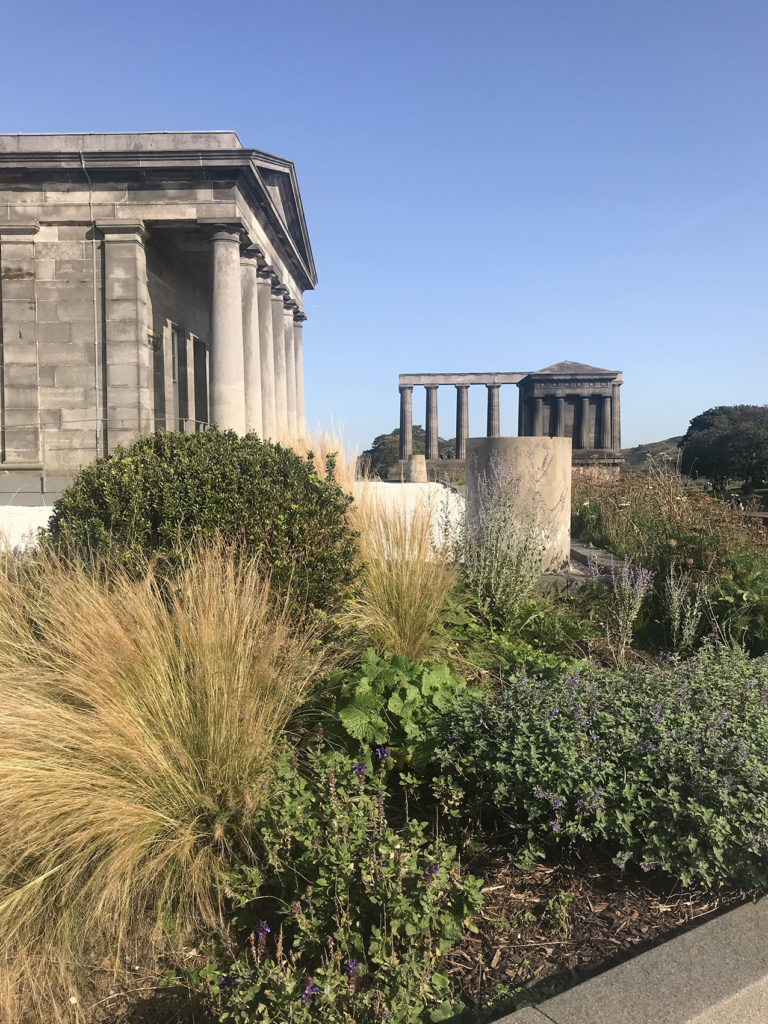 The debate:
A week after our study tour, we held a virtual debate which had six rounds, each including a presentation from each team of the visited schemes and a debate afterwards using adopted personas. There was guidance on but no limit to the debate: as a creative solution for a two people study tour under the COVID-19 restriction, no one had experienced anything quite like it. As a result, some people interpreted their performance to be more like a classical debate, whilst others saw it as a storytelling opportunity. All the teams were more or less composed of one senior member and one junior member and all had different focuses and styles.
My teammate was Martin and our stance was against both the projects we visited. Unfortunately, our team selected the best projects in Edinburgh for us to visit and it was incredibly difficult to convince the audience that they are irrefutably flawed. Maintenance seems to be the major stumbling block, so we focused on crafting a suitable narrative and performance to deliver the presentation.
It was not only a useful learning experience but also an excellent team bonding session. Many of HS team members revealed a secret acting talent: the most impressive was the transformation of Debbie into our First Minister Nicola Sturgeon, complete with full costume and accent. Martin's grumpy teenager employed not just an outfit but was replete with slang and Mike's playful child's voice had clearly broken early… I really enjoyed performing and watching other's performances. In the end, Mike and Connor won the Best Debater Award. You can have a guess who lost it, but it was certainly not the author of this blog!
Overall, the debate was the finishing touch to our unique study tour this year. The opportunity to practice presenting projects allowed us to gain confidence from the experience. Using the Place Design Standard to assess designed spaces not only improved our analytical skills but also reminded us as designers to make sure our projects meet this standard and score as highly as possible. Last but not least, adopting different personas to approach the designs revealed the visiting experience from other angles, allowing us to consider how different people would use the space and how to design landscapes that welcome everyone.
Esther Wenjue Li
Related articles