05/10 Canal Challenge
Graduate Landscape Architect
June 4 2020
Scottish Canals set us the challenge to navigate the canals (towpath + water) between Glasgow + Edinburgh, using at least 3 active travel methods in one.
Social Distancing
The Great HS Relay Team took on the challenge to use at least 3 types of active travel methods to cover the 102 km of off-road canal paths between Edinburgh and Glasgow. The plan was to take part in a relay – with the HS team canoeing, cycling, running, walking and scooting the distance as a team effort in early April.
Our plans had to change slightly to accommodate the need for social distance. But the HS Team managed to go from A to B and cover the 102Km in and around Edinburgh, using the same active travel methods, whilst discovering more routes within Edinburgh.
Some of our routes included:
▪ A cycle from New Town to the Pentland Hills.
▪ A canoe down the River Almond and around Cramond Island.
▪ Stockbridge to Granton's coastline walk.
▪ Bruntsfield to Blackford Hill and the Meadows.
'Scottish Workplace Journey Challenge 2020'
During March, as a practice, we also took part in the 'Scottish Workplace Journey Challenge 2020' with Sustrans Scotland. We were delighted to discover that we came shared 1st overall in our category. It was all about taking part and encouraging others to try changing the way they commute, bringing active travel into the every day – very much like this challenge.

Reflection
In time and once lock down is lifted, we hope to be able to carry out the challenge in its full along the canal network.
Our challenge champions Jenny Jones and Martin Stevens had to use their imagination to achieve this challenge under unusual circumstances. We were driven by a determination to come together (metaphorically speaking) and achieve what we had intended to do.
You can read more on this story in our blog post https://blog.harrisonstevens.co.uk/2020/04/16/social-distance-canal-challenge/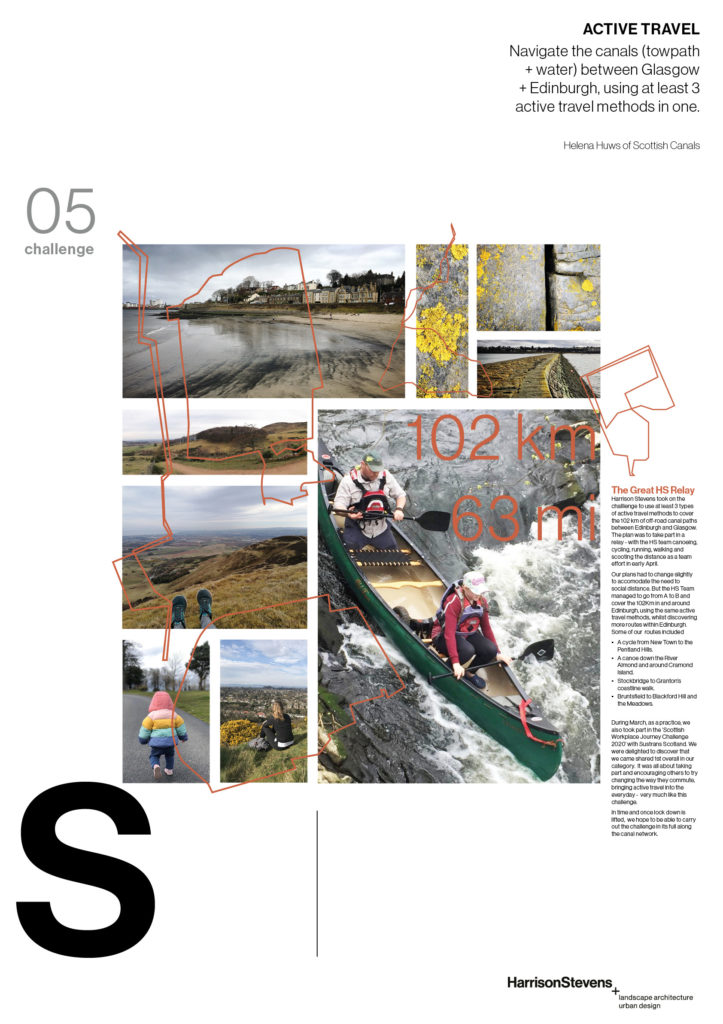 Related articles