Challenge 03/10 – Waste – Reduce waste by 30%
Laura Tainsh, Partner at Davidson Chalmers Stewart, set HarrisonStevens the challenge to reduce office waste by 30%
HarrisonStevens team have made every effort in their ambitions to reduce waste in the studio. Our team has introduced innovative and positive changes to the studio environment. All of which we all hope will be long-standing and with purpose.
It is probably easier than ever to be environmentally friendly. This challenge has offered the opportunity to be creative and curious in our approach to being more conscious.
As a small team, it is easy to notice the effect of poor imagination. A single-use plastic cola bottle left in a meeting room, 4 pint plastic milk bottles in the recycling, food waste in the refuse bins, endless Pret coffee cups stacked up on desks or reams of misprinted documents.
HarrisonStevens has aimed to be different throughout this challenge. Guided by our core values we set out to reinvigorate the office systems and set our expectations of ourselves inside and out of the office.
We have aimed to set the bar higher as a collective and are confident we have met the target set to us.
The Challenge
HarrisonStevens endeavours to not use single-use plastics during the last week of every month.
Recycle the photocopier – Rather than purchasing a new photocopier when the lease ran out, Louise Stevens, our Office Manager, upcycled the current machine.
Purchasing of eco-friendly office equipment including 'What The Crap' loo roll.
Introduction of eco-friendly and reusable products such as R-Cups coffee cups and office supplies.
A positive change to a weekly delivery of glass milk bottles from McQueens Dairies.
The reduction of paper waste.
Weekly food deliveries of local fresh fruit and vegetables.
Ideas
The recycling bag should be empty on Friday morning!
Make good use of local food suppliers including the 'Too Good To Go' food app
Carry an RCup or reusable bottle to external meetings
Avoiding bringing excessive food packaging into the office
Bring in a packed lunch and take a walk at lunch, which is also great for your mental health.
Carry a reusable bag
Say 'No thanks!' to plastic cutlery
Take Tupperware to collect your lunch from a deli or restaurant
Go out of your way not to purchase anything that is made of plastic or contains plastic
Don't use anything made of plastic that we have to recycle or throw away after using it
Engage with local suppliers
Reduce, reuse and recycle
Be the difference. We can do this!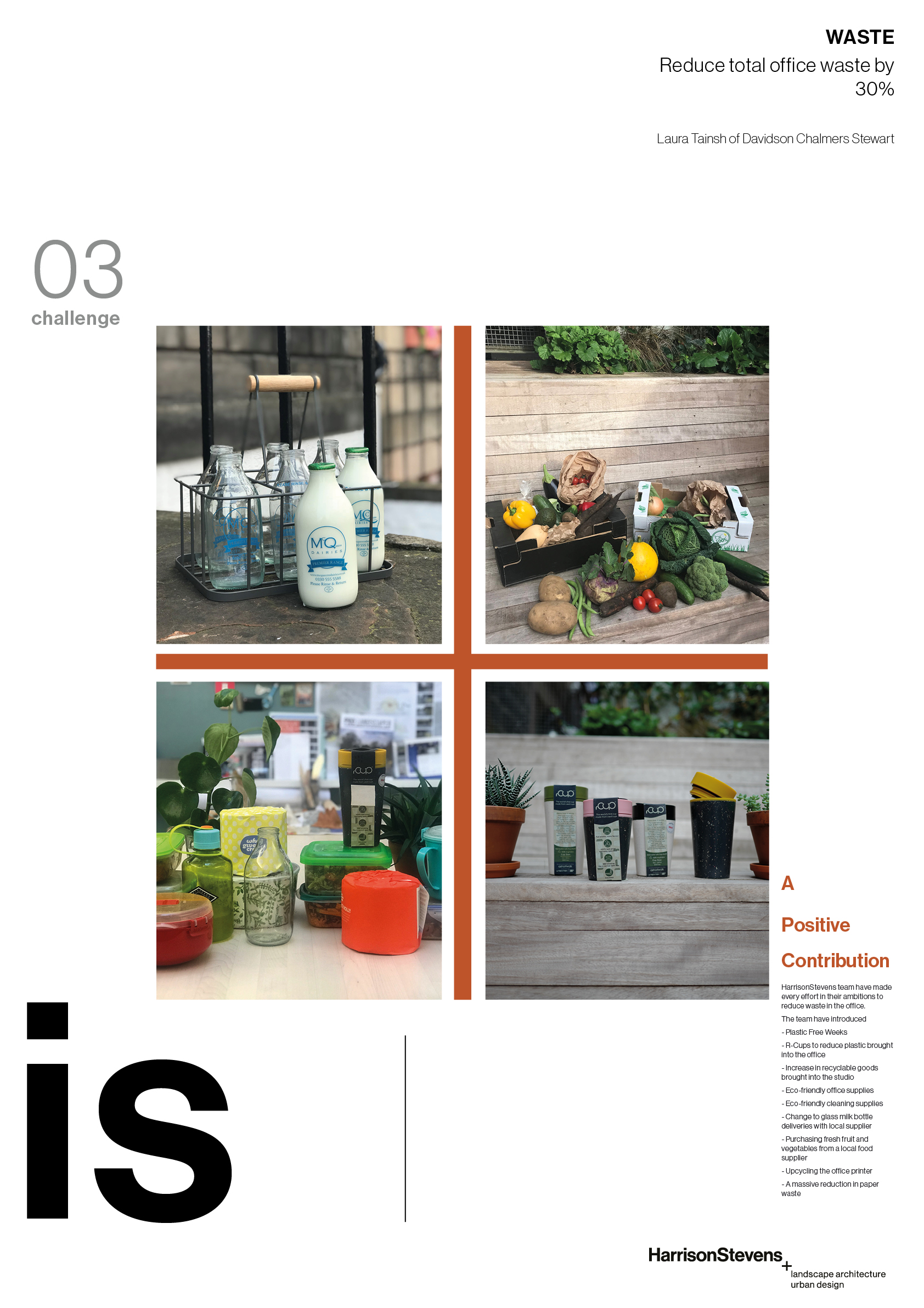 Related articles