Challenge Update
Associate Director
November 13 2019
Every Step Makes A Legacy.
HarrisonStevens is made up of a team of creative, thoughtful and highly driven individuals. It is clear to see, as the challenges progress, that this is an exceptional group.
HarrisonStevens celebrates its 10th year of trading in 2019/20, a significant milestone that Martin, Mike and the team want to celebrate.
It was agreed that in the run-up to our 10th anniversary HarrisonStevens would undertake 10 challenges put to us by the clients and consultants invited to our annual office reception in May 2019. Of the 50+ challenges set to us, the team voted for the ten we felt most inspired and passionate about. We have since been busy planning and ticking off tasks from our list.
Being a 'Challenge Champion' requires innovation, imagination and a call of duty beyond your daily work responsibilities. HarrisonStevens' core values are clearly driving on the determination to succeed to the highest level and ultimately have fun. We are halfway through our challenge year and tremendous progress has been made so far.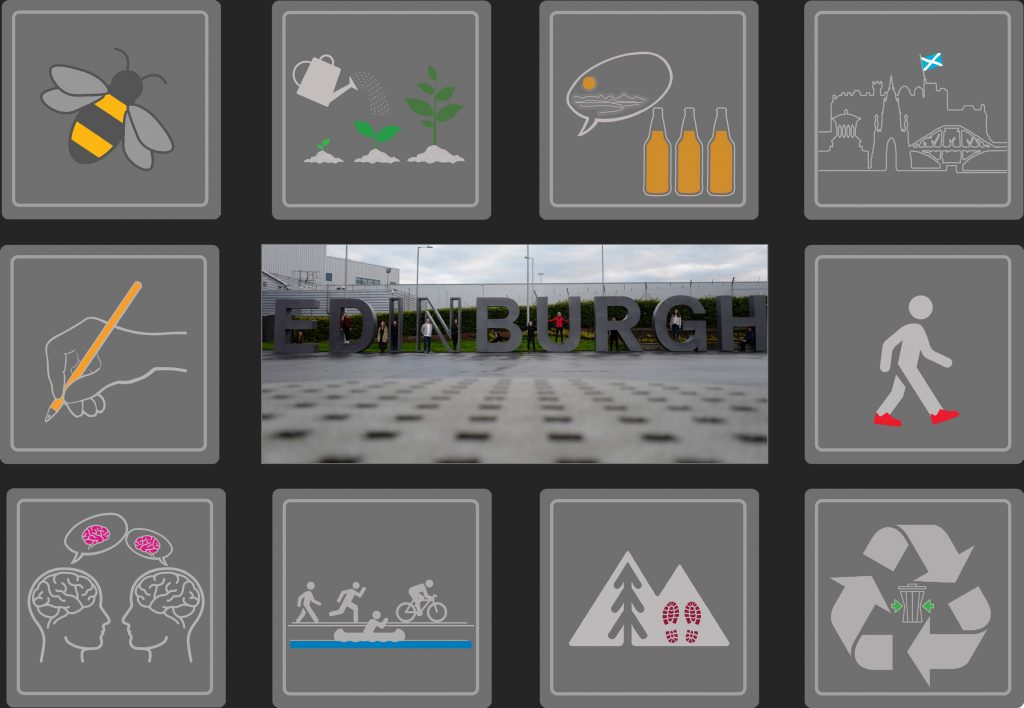 Connor Lawrie attended a conference in August called 'Creating a Buzz in Development' as part of the challenge to do 12 good things for bees. In addition to this local EH2 bees now have their very own bee bath in our sometimes-sunny office courtyard. Next on the achievement list is to visit a beekeeper at Pollock Halls, at University of Edinburgh, and learn more about our furry buzzy friends and how we can help them.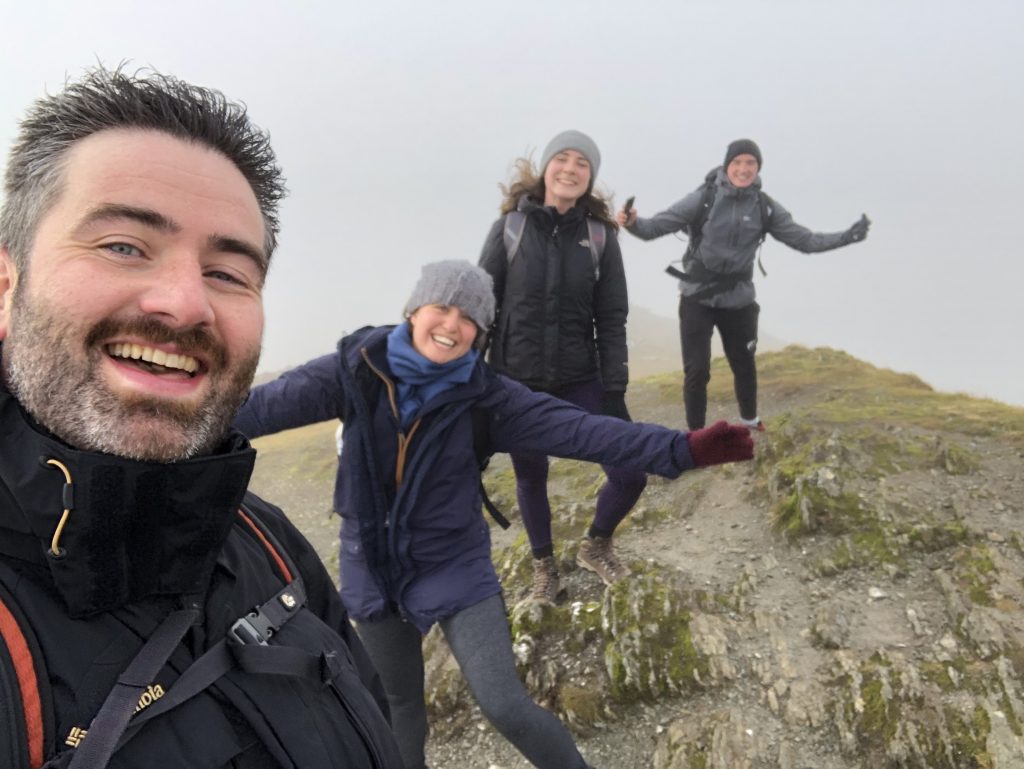 'Ollie Phillips and the Climbing Gang' have now scaled 7/10 Munros in a variety of conditions from blistering 27-degree heat to dense fog, gale-force winds and snow- this could only happen in Scotland! Friends and family members have even been encouraged to the top with us, our youngest adventurer being only 3 years old!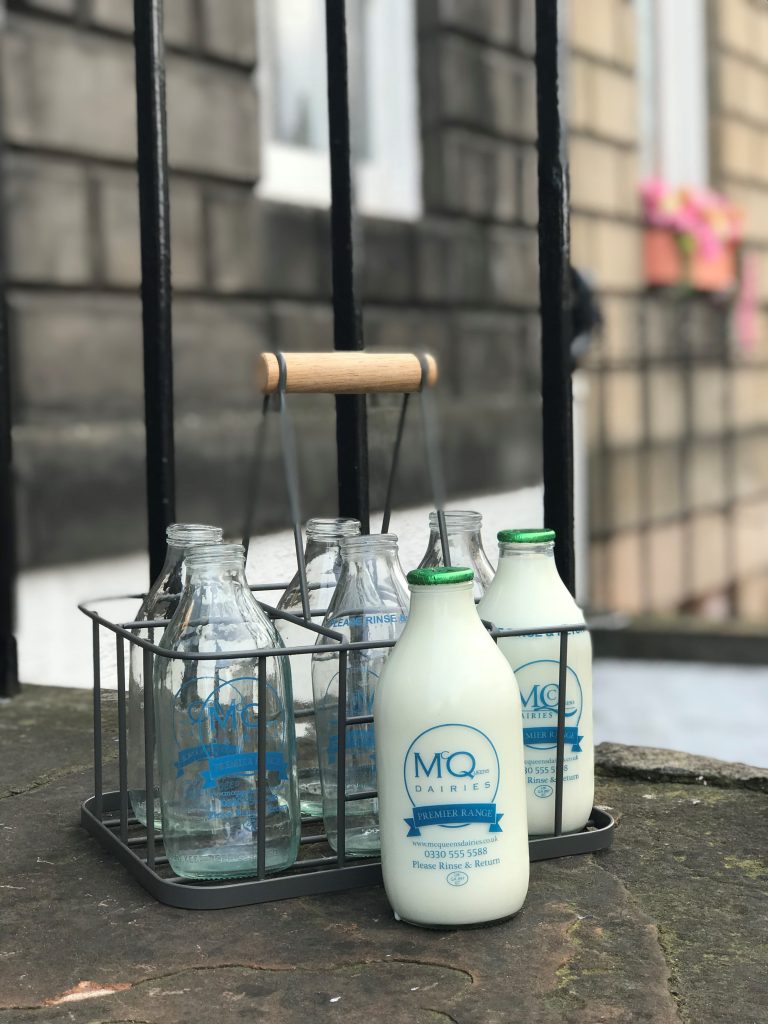 It feels like the office has taken a step back in time to the '80s having switched our plastic milk cartons to a local glass bottle delivery
– roll on the wintertime and chipping through frozen milk.
The team have also been issued with some smart reusable rCUPS and Dopper water bottles to reduce the use of single-use plastic when we are out and about. Thanks to Lousie Stevens for leading this.
Research, testing and measuring have begun with Liz Leech on three current projects to understand if and how we can achieve biodiversity net gain, our challenge 4 target.
During October and November we have had three lunchtime discussions about mental health and wellbeing with Gin Lalli, an Edinburgh based Psychotherapist and Clinical Hypnotherapist. You can read more about this on our LinkedIn page. Esther Wenjue Li is leading the way with ideas for this challenge.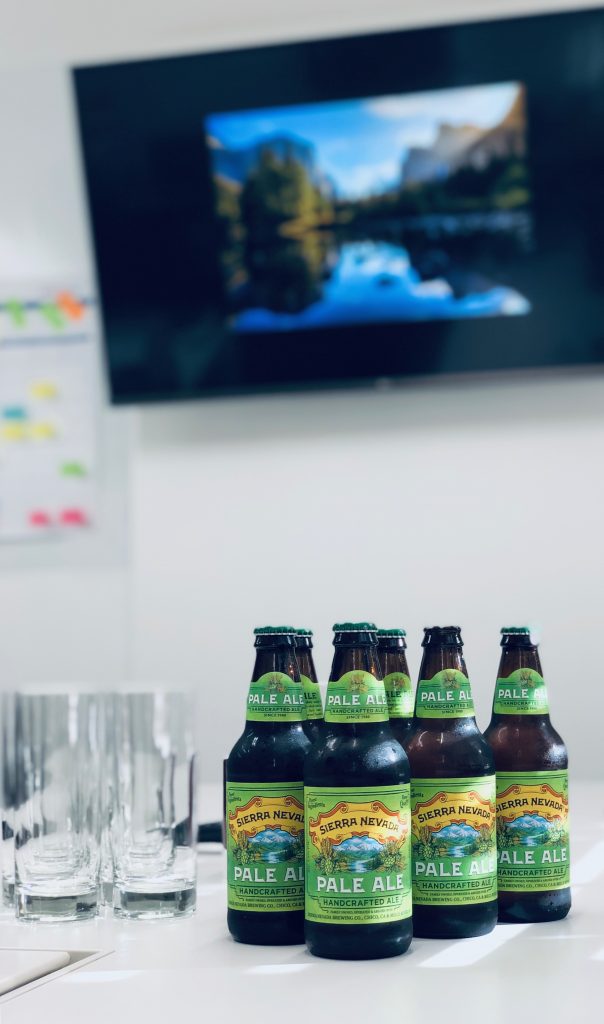 We have been travelling the world without leaving our seats thanks to our 10 landscapes with 10 beers challenge, led by Chris Shiels and Mike.
So far we've been inspired by Icelandic beer and volcanic landscapes, the Yorkshire dales with a warm-ish bottle of Black Sheep ale and Yosemite National Park and a cold Sierra Nevada pale ale. Who knows where our next favourite landscape will transport us to?
The two Jennies have crafted the drawing challenges, which has had our pens, pencils and sharpies out, sketching the swirling Joana Vasconcelos and Charles Jenks Landscapes of Jupiter Artland, blindfolded journeys to work and postcards from Berlin.
One of Debbie Harrison's biggest challenges has been getting the whole team in the same place at the same time for our 10 landmarks photos! We have succeeded with one group photo at the Edinburgh Airport sign, and almost a full house at the newly restored Ross Fountain and one during the Fringe festival.
Fuelled by bratwurst and steins alone Daniela Miler ensured we smashed the target of walking 1,010,101 steps as an office within just 4 days whilst on our annual study trip to Berlin.
HarrisonStevens is made up of a team of creative, thoughtful and highly driven people. It is clear to see, as the challenges progress, that this is an exceptional group of individuals.
We haven't called this a challenge for nothing! But a sense of pride is starting to kick in as we reach our high targets, and nothing feels better. We have a lot more activities planned for the coming months but would like to say a big thank you to our challengers for taking us out of our comfort zone, making us learn, think, talk and bond. Every step makes a legacy! More than anything this is our opportunity to inspire another 10 years + of HarrisonStevens.
Check out our @hslandscape Instagram for more images or connect with us on LinkedIn.
By Debbie Harrison and Jenny Campbell
Related articles