Holyrood North Wins Place Award @ SAQP2016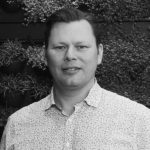 Managing Director and Co-Founder
October 31 2016
The Holyrood North Student Accommodation Project has been recognised with a Place Award at the 2016 Scottish Awards for Quality in Planning.
Holyrood North was rewarded at the Scottish Government's most prestigious awards to acknowledge achievements in planning, held in Edinburgh this year. HarrisonStevens  in close collaboration with jmarchitects and Oberlanders Architects to deliver the 1100 bed development for the University of Edinburgh.  A close working relationship with the City of Edinburgh Planning department was key to delivering the project and CEC Planner Bruce Nicolson attended the awards ceremony with us in reflection of this.
Ian Connelly, former president of the RIAS presented the award describing the project as 'a stunning 21st Century development which provided pleasure in walking around both the open and enclosed spaces and shows immaculate attention to detail'.
Image : Martin Stevens; Bruce Nicolson [CEC Planning]; David McNabb [Oberlanders Architects] and Rod Duncan [jmarchitects].
Related articles