Holyrood North – Opens to Receive the Class of 2016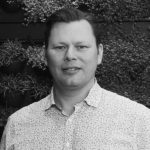 Managing Director and Co-Founder
August 15 2016
Deep in the heart of Edinburgh's World Heritage Site and Old Town Conservation Area, our proposals for the public realm around new student residences for the University of Edinburgh provide a seamless hard landscape inspired by the historic context and geographical influence of the glimpse views to Salisbury Crags.
The Holyrood North scheme has forged a subtle yet distinct identity for the site within the restrained palette of materials; natural stone cubes; setts and; slabs, which all reflect the materials of, and blend with, the old town streets and vennels.
Taking inspiration from the adjacent Salisbury Crags, and the work of James Hutton, a unifying concept of geology and geomorphology is played out across various public realm elements. These linked elements include drainage, seating, walls, lights and paving details. It is this strong concept, backed up by robust and deliverable detailing that binds the architecture of Holyrood North together. Corten steel used iteratively as edgings and copes, public art, and structural columns all assist to pick up the tone of the crags, and in bed the site's geology into the Public Realm.
Related articles